OUT OF IDEAS FOR VALENTINE'S DAY? THIS YEAR, SPEND IT ON THE PUGET SOUND
Date: April 9, 2021
Its February, and Valentine's Day is right around the corner. Some couples go for the typical romantic candle light dinner. Some they send their lady flowers or give their man a heartfelt card. Instead of sticking to the usual routine, this might be the year to think outside the box for Valentine's Day: consider a fun interactive date of being on the sound, catching a dinner you can cook and eat, or just spending a day enjoying the views of Washington. When the two of you catch your first fish or see whales breaching in the wild, it will be a Valentine's Day you won't forget.
FOR NEW VIEWS OF THE CITY YOU LOVE: PUGET SOUND SIGHTSEEING TRIPS
Whether you're new to the area or you've lived in Seattle for your whole life, this city has a lot to offer. The days are starting to get warmer and longer, so why not take a weekend staycation and see what your city has to offer by sea? Our sightseeing tours start with insiders views of the city and skyline and then head north towards Mount Baker, the San Juan Islands, and Deception Pass. Our guests often see orca whales, eagles, seals, and other wildlife native to the Puget Sound Area. These tours are great for couples, and small groups alike. For any size group, we'll charter you a private boat. This is a great option for group dates, boys trips, and single ladies weekends alike.
FOR A NEW EXPERIENCE TO LEARN TOGETHER: CAST A LINE AND CATCH A FISH
It's never too late to learn a new skill, so why not learn to fish with your significant other? Captain Keith and his team are experts at saltwater fly fishing and mooching, and they're happy to have you aboard whether you've never held a fishing rod, fished a few times, or are a seasoned expert. It's hard to beat the views from the Puget Sound, and hopefully the fish cooperate too! These trips are great for couples and small groups alike. Only certain areas of the Puget Sound are available for salmon fishing, so if you'd like to take a trip later on in the season we also have gift card options.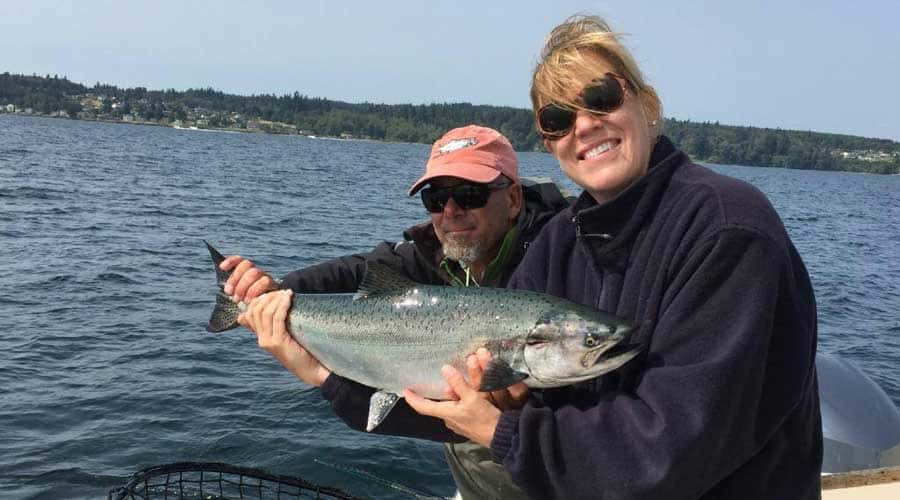 FOR THE EXPERIENCED FISHERMAN YOU LOVE: SALTWATER FLY FISHING
If your significant other likes to fly fish, a saltwater fly fishing trip would probably be a great gift this Valentine's Day. Saltwater fly fishing is just like freshwater fly fishing, but with us you'll get to cast your line in some of the best locations on the Puget Sound. We target several different species of salmon including Sea Run Cutthroat Trout, Dolly Vardon, Steelhead and more depending on the season. Our team knows this area backwards and forwards which means we know the best places to catch fish at any time of the year.
For couples of all kinds, making your significant other happy on Valentine's Day can be a stressful. This year, instead of worrying about black ties and dinner reservations, consider a fun, interactive date on the Puget Sound you'll both remember for years to come. Whether you want to take the trip now or get a gift card for this summer, our team is here to help. From fishing trips, to sightseeing adventures, we'd love to have you aboard. To find out more or to plan your trip with us, visit our website today!
Featured image courtesy of Pixabay.com.