MAKE YOUR GUYS' WEEKEND MEMORABLE WITH A FISHING TOUR
Date: April 9, 2021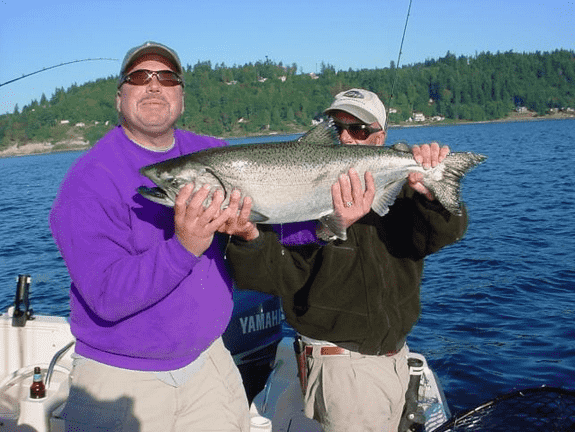 If you've been looking for an excuse to get together with your buddies and reunite for a memorable guy's weekend, there's no better experience than a guided salmon mooching trip on the Puget Sound.
No matter how experienced and seasoned you are as a fisherman, mooching or saltwater fly fishing can be fun and challenging alternatives to passive trolling methods. Depending on the season and your location in the Sound, you and your buddies can catch coho, humpback, chum, and chinook salmon and have plenty of new fishing stories to share the rest of the year.
Don't have your gear or fishing equipment? No problem – A Spot Tail Salmon Guide and Captain Keith Robbins can provide all fishing gear, rain gear, bait and tackle for individuals and private boats alike. With acute knowledge of Puget Sound's sweet spots and the best spots for salmon fishing taking into account the tide and season, you'll never have a fishing trip better than this.
There's still time to book a weekend getaway with your buddies and have a memorable experience in one of the most exciting places in the country? Any excuse to come out for a weekend in Seattle this time of year is a good one, so in-between a trip to the Space Needle, seafood tours, and sampling the amazing beer and cider in the region, carve out a chunk of time to get out on the water and catch some fish.
Schedule your group or solo outing with Captain Keith Robbins and A Spot Tail Salmon Guide today! Call or text 206-295-7031 or use the contact form to request a date and we'll get back to you as soon as possible.